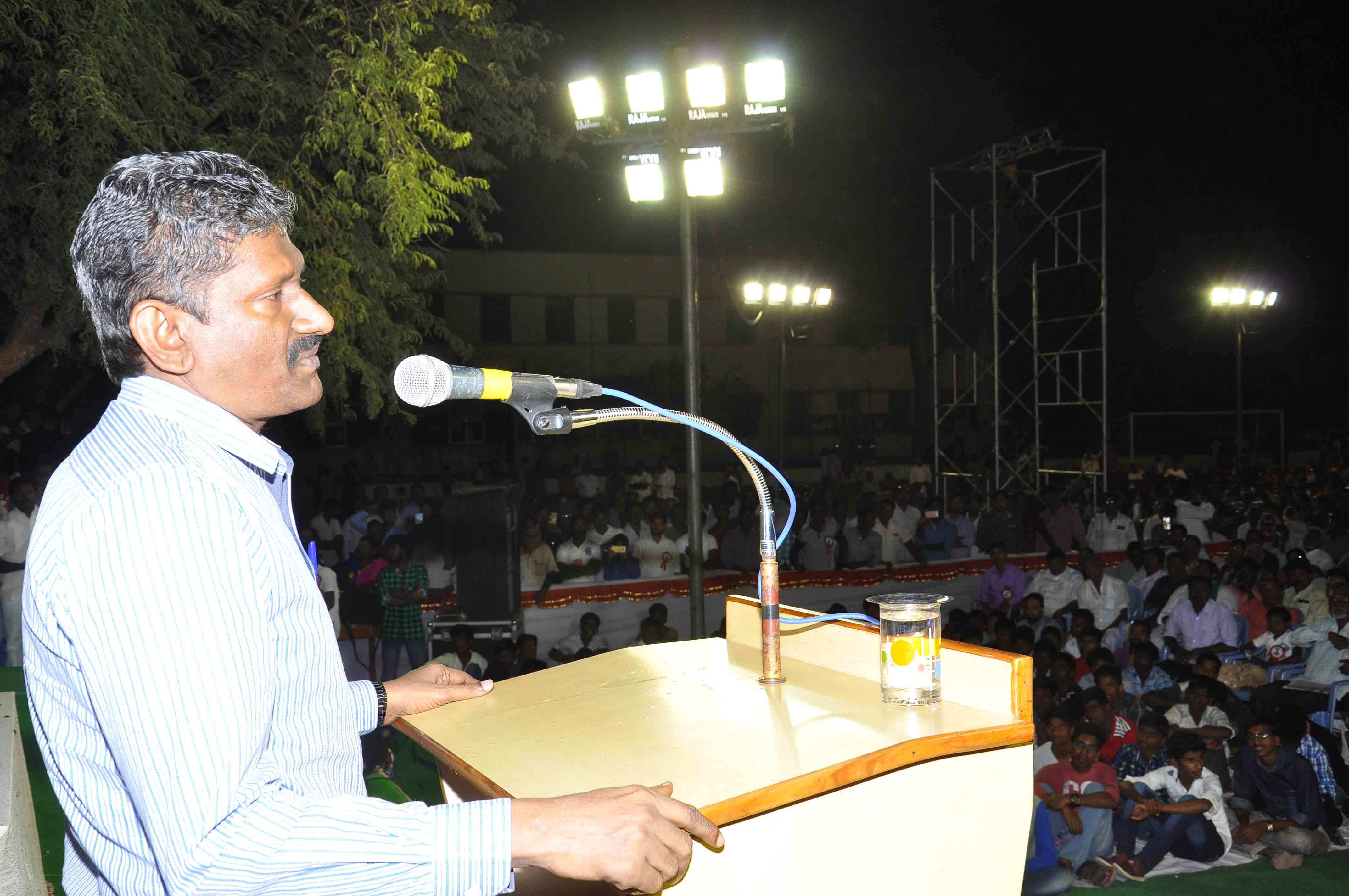 Mr.U.Sagayam IAS visited Sacred Heart College (Autonomous), Tirupattur on 18th February 2018, Sunday around 6:00 p.m. and delivered an inspiring speech. Rev.Dr.C.Antonyraj SDB, Secretary of the institution presided over the programme. Rev.Dr.D.Maria Antony Raj SDB, Principal led the programme. Rev.Dr.K.A.MariaArokiaraj SDB, Additional Principal (Shift-II) welcomed the gathering.Mr.Kumar, Head of 'MakkalPaathai' presented the objectives of their organization. Mr.Chinnapparaj, Dr.K.Arockiaraj and their team cherished the gathering by singing motivational songs.
In his speech Mr.U.Sagayam IAS recollected his childhood dream of becoming an IAS officer. His sincere approach in academics made him bold enough to face the civil service exam. During his interview, the panelists asked questions relating to the Puthukottai Presidency which he had answered brilliantly. The panelists further posed a challenging question that which language should be declared as the official language of India. Without any hesitation he answered Tamil and clarified his stand concretely. His friend who turned up for the interview criticized his answer for which he replied them that his mother tongue Tamil is more important than the IAS.
Being honest is his motto; he always worked with this principle. He denied bribe on all circumstance for which he faced many hurdles. The support and inspiration from his family members helps him to run his office honestly. His parents were his role models.
He advised the students to gain inspirationby reading success stories and biographies of great personalities like Einstein, Aristotle, Karl Marx, Gandhi, Bhaghath Sigh, Dr.Ambedkar, Periyar, Annadurai and SubramaniyaBharathi.
Mr.U.Sagayam IAS further shared his views on facing shame and disappointment in life. It should be taken positively. The speaker at the end of his address answered few thought provoking questions raised by the students. His insightful speech and creative answer grabbed the attention of the entire audience.
During this programme the alumni of Sacred Heart College and retired IPS Officer Mr.Annamalai, Vijaya Galaxy proprietor Mr.Mathiyazhagan, dignitaries from the town, general public,salesian priests and sisters, professors, non-teaching staff and students actively participated in a large number.
Dr.P.Selvakumar, Head Department of Tamil (Shift-I) proposed vote of thanks.Dr.P.Balasubramanian, Head Department of Tamil (Shift-II) skillfully compered the programme.